Ukraine has invited Florida Governor Ron DeSantis to visit, after the Republican dismissed the Russian invasion as a "territorial dispute".
Mr. DeSantis, who is widely expected to run for president in 2024, made his comments in response to questions posed to potential Republican candidates.
According to the former congressman, the country's "vital national interests" do not include continued US support for Ukraine.
The remark implied that if elected president, he would likely reduce aid.
It also aligned Mr DeSantis with former President Donald Trump, the leading contender for the Republican nomination, who has opposed US support for Kyiv and criticised the Biden administration's handling of the war.
Their comments show the divide in the Republican Party between isolationists who are sceptical of providing military aid and the establishment party policy of supporting Kyiv.
In his response to a questionnaire by Fox News anchor Tucker Carlson, Mr DeSantis said: "While the US has many vital national interests… becoming further entangled in a territorial dispute between Ukraine and Russia is not one of them."
The 44-year-old has not officially announced his intention to challenge Mr Trump for the Republican nomination, but has been taking all the necessary steps suggesting he will do so.
When asked the same question on whether US backing for Kyiv was vital for Washington, Mr Trump said: "No, it is for Europe. But not for the United States."
Ukraine's foreign ministry spokesman Oleg Nikolenko criticised Mr DeSantis's comments and tweeted his invitation to the Republican governor on Tuesday.
"We are sure that as a former military officer deployed to a combat zone, Governor Ron DeSantis knows the difference between a 'dispute' and war," Mr Nikolenko said.
"We invite him to visit Ukraine to get a deeper understanding of Russia's full-scale invasion and the threats it poses to US interests."
While studying law at Harvard University, Mr DeSantis was commissioned as an officer in the US Navy and was assigned to its legal arm, the Judge Advocate General's (JAG) Corps.
His service as a JAG officer included working with detainees held in Guantanamo Bay, as well as an assignment as a legal adviser for elite US Navy Seals deployed to Iraq.
Many Republicans, including the party's senior leadership in the Senate, have long said defending Ukraine is in the best interests of the US.
South Carolina Senator Lindsey Graham said Mr DeSantis' comments displayed "a misunderstanding of the situation" on the part of the governor.
"This is not a territorial conflict, it's a war of aggression. To say it doesn't matter is to say war crimes don't matter," Mr Graham said.
Former Vice-President Mike Pence has also called for the US to increase its support.
But there is a vocal wing of the party – mostly in the House of Representatives – that is hesitant about the continuing aid.
Republican House Speaker Kevin McCarthy has supported Ukraine, but recently warned that there "can't be a blank cheque" for the country given the scale of US debt.
Politicians from both parties in Congress have voted in favour of Western support for Ukraine, approving more than $112bn (£92.47bn) in 2022 alone.
The US is the largest contributor to Ukraine in terms of money spent. It pays for drones, tanks, missiles and other munitions systems, as well as training, logistics and intelligence support.
Humanitarian aid has included food assistance, safe drinking water, medical supplies and other necessities for Ukrainians displaced by the conflict. Financial aid keeps Ukraine's government operating by paying civil servants, healthcare workers and teachers.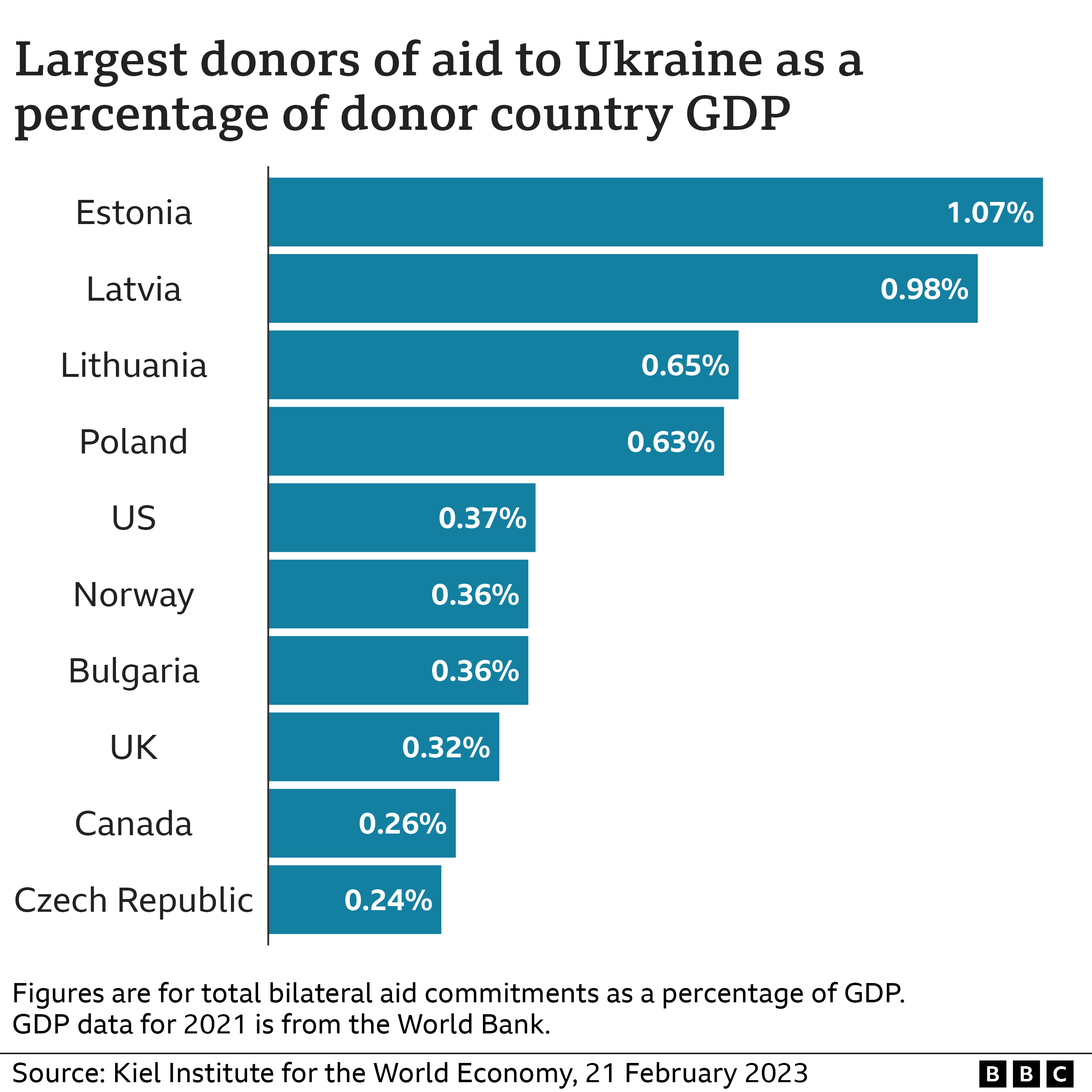 Source: BBC