The year 2019 came with lots of memorable moments for some Ghanaians in the sports industry.

In the various sports disciplines, we had some great successes chalked which are unlikely to be repeated anytime soon.
Pulse Sports chronicles the top five Ghanaian sports moments in 2019 we'll forever remember:
Cape Coast pitch invader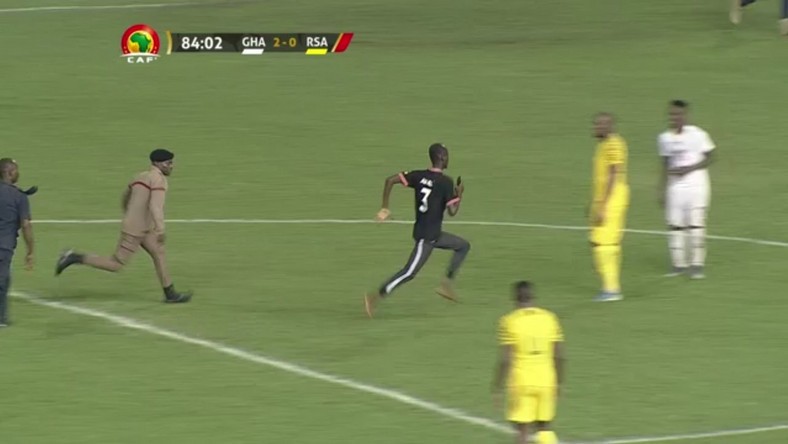 In November, Ghana witnessed its first high-profile pitch invader during the Black Stars' 2021 AFCON qualifier against South Africa.
Awal Suleman interrupted the game in the second half when he surprisingly run onto the Cape Coast stadium.
Read:Pitch invader steals show in Ghana's win over South Africa
In what was a rather comical scene, Awal put several security personnel to their paces as spectators watched on in amusement.
Having chased him around the pitch for a while, the security personnel finally got a hold of him and escorted him away.
He was later arrested and spent a day behind bars before being released. Awal went on to meet Thomas Partey – who he said was the reason he ran onto the pitch – with the midfielder presenting him with a jersey.
Kurt Okraku became new GFA President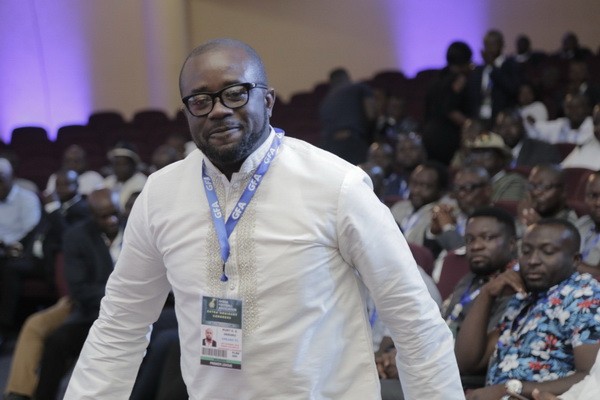 Kurt Okraku
Ghana football witnessed a new dawn this year, with the country's football association finally getting a president in the person of Kurt Edwin Simon Okraku.
After more than a year of turmoil, the 48-year-old was elected president the Ghana Football Association (GFA).
Read:Kurt Okraku is new GFA President
Mr. Okraku beat off competition from five other candidates following a run-off at the GFA Extraordinary Congress in Accra.
After three rounds of voting, Mr. Okraku stood tall, winning with over 96% after going unopposed in the final round following George Afriyie's concession. It was a historic moment that won't be forgotten anytime soon.
Penalties foil Ghana's Olympic football dream AGAIN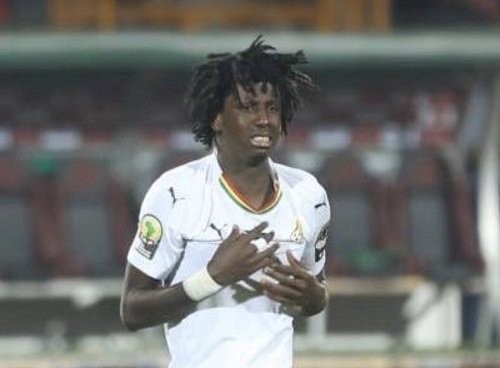 Black Meteors missed out on qualification to 2020 Olympic Games
It was once again heartbreak for Ghanaians after the Black Meteors failed to qualify for the 2020 Olympic Games.
The Meteors missed out on qualification after losing successive penalty shootouts to Cote d'Ivoire and South Africa in the U23 AFCON.
Read:Black Meteors: My family can't go to the market anymore because of missed penalty – Edward Sarpong
They lost 3-2 on penalties to Ivory Coast in the semi-final of the tournament, before again suffering another penalty defeat to South Africa in the 3rd/4th place game. These losses ended Ghana's hopes of making a first Olympic football appearance since 2004.
Black Stars exit AFCON at round of 16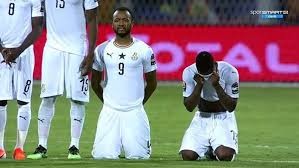 For the first time since 2006, the Black Stars failed to reach the semi-final of the AFCON after exiting at the round of 16.
Following what was a tense 1-1 draw after both regulation time and extra time, Tunisia eliminated Ghana on penalties.
Read:AFCON 2019: I feel sad about our exit – Kwesi Appiah admits
Caleb Ekuban was the only Ghanaian player to miss, as his weak penalty was saved by Tunisia goalkeeper Farouk Ben Mustapha.
The 25-year-old's miss proved to be Ghana's undoing, as Tunisia netted all their penalties to emerge 5-4 winners in the shootout.
Kofi Kingston visits Ghana with WWE title
Kofi Kingston returned to Ghana with his WWE title
Earlier this year Kofi Kingston defeated Daniel Bryan in April at WrestleMania 35 to become the new holder of the title.
The 37-year-old made history by becoming the first ever African to win the WWE Championship.
Read:Kofi Kingston loses WWE title in 9 seconds
With such a great feat, the WWE superstar made a trip down to Ghana to visit his country of birth.
Kofi paid a courtesy call on President Akufo-Addo at the Jubilee House, before also meeting the Asantehene, Osei Tutu II. Having the WWE champion in Ghana? Well, that defines how big the moment was.
Source:Â Pulse.com.gh