Sylvester Stallone is shutting down a report that Jennifer Flavin filed for divorce following an argument over his dog. See what he says is the reason for their split.
He hits back at a rumor that his wife Jennifer Flavin filed to end their 25-year marriage over a dog.
On Aug. 24, hours after news of Flavin's divorce filing broke, TMZ, citing sources directly connected to the couple, reported that Stallone had wanted to get a Rottweiler to protect their family but Flavin did not and their argument over the dog brought up other issues that led to their split.
Stallone, who announced earlier this month that he got a dog named Dwight, is now setting the record straight, telling TMZ, "We did not end the relationship on such a trivial argument."
The Rocky star did acknowledge, per the outlet, that they weren't always on the same page about the dog's care given that they're bicoastal and Stallone often travels for work. But the real reason for their divorce, Stallone said, is they "just went in different directions." In fact, he told TMZ he has "the highest respect for Jennifer," adding, "I will always love her. She's an amazing woman. She's the nicest human being I've ever met."
split speculation started after photos spread online of Stallone having his bicep tattoo of Flavin's face covered up with a sketch of Butkus, the dog from the Rocky movies. However, his publicist offered an explanation.
"Mr. Stallone intended to refresh the tattoo image of his wife Jennifer however the results were unsatisfactory and, unfortunately, unfixable. As a result, he had to cover the original image with a tattoo of his dog from Rocky, Butkus," the publicist told the Daily Mail on Aug. 22, just a few days before Flavin's divorce filing went public. "Mr. Stallone loves his family. The Stallones are presently filming a reality show together which will debut on Paramount+."
While the alterations to the bicep tattoo made waves, Stallone told TMZ he still has a design of Flavin on his back. However, the ink wasn't the only thing that had the internet buzzing. Flavin also caught followers' attention after she posted a picture of her with the three daughters she shares with Stallone—Sophia, 25, Sistine, 24, and Scarlet, 20—to Instagram on Aug. 10 and wrote, "These girls are my priority nothing else matters. The 4 of us forever."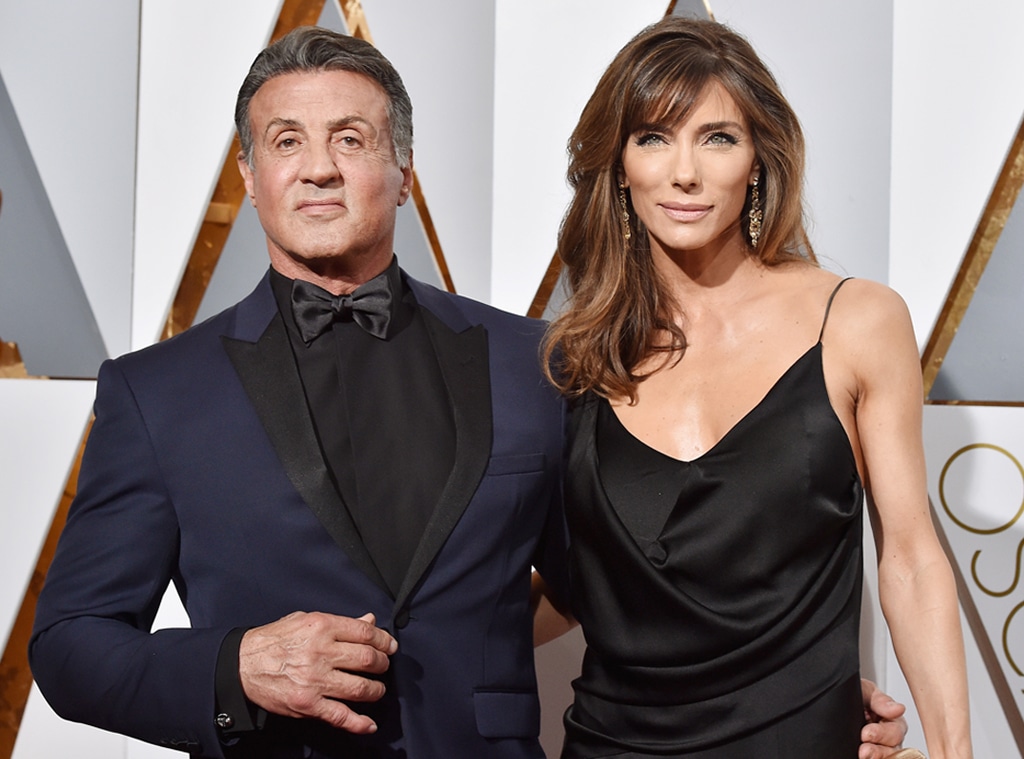 Kevork Djansezian/Getty Images
Flavin filed for divorce from Stallone on Aug. 19, noting in the filing that "the marriage between the parties is irretrievably broken." According to the documents obtained by E! News, Flavin alleged in the filing that "upon information and belief" Stallone "has engaged in the intentional dissipation, depletion, and/or waste of marital assets which has had an adverse economic impact on the marital estate."
Per the documents, Flavin is asking to "be compensated and made whole by receiving an unequal distribution of the marital assets in her favor."
"Moreover," the filing continues, "the Husband should be enjoined from, selling, transferring, assigning, encumbering, or dissipating any assets during the pendency of these proceedings."
In a statement to E! News provided by Stallone's rep, the actor said, "I love my family. We are amicably and privately addressing these personal issues."