Saudi Arabia's public prosecutor has reportedly sought the death penalty for five activists, including the female rights defender Israa al-Ghomgham.
Human Rights Watch said they recently went on trial at a terrorism tribunal on charges including "participating in protests" in the restive Qatif region.
It has been the scene of demonstrations by the minority Shia Muslim community.
Ms Ghomgham is believed to be the first Saudi woman to possibly face the death penalty for rights-related work.
Read: Saudi Arabia freezes Canada trade ties, recalls envoy
HRW warned that it set "a dangerous precedent for other women activists currently behind bars" in the Gulf kingdom.
At least 13 human rights defenders and women's rights activists have been arrested since mid-May, accused of activities deemed a risk to national security. Some have been released, but others remain detained without charge.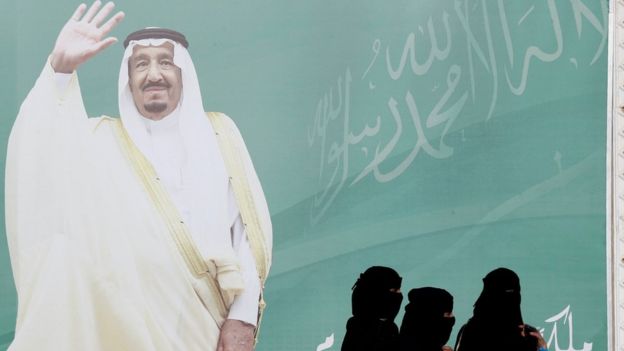 HRW said Ms Ghomgham was an activist well known for participating in and documenting the mass protests that have taken place in Qatif since 2011.
Members of the Shia community have taken to the streets to complain about the discrimination they say they face
Ms Ghomgham and her husband were reportedly arrested in December 2015, and they have been held at Dammam's al-Mabahith prison ever since.
The public prosecutor accused Ms Ghomgham and the other four activists of charges including "participating in protests in the Qatif region", "incitement to protest," "chanting slogans hostile to the regime", "attempting to inflame public opinion", "filming protests and publishing on social media", and "providing moral support to rioters", according to HRW.
Read: Saudi women prepare for end of driving ban
"Any execution is appalling, but seeking the death penalty for activists like Israa al-Ghomgham, who are not even accused of violent behaviour, is monstrous," Sarah Leah Whitson, HRW's Middle East director, said in a statement.
"Every day, the Saudi monarchy's unrestrained despotism makes it harder for its public relations teams to spin the fairy tale of 'reform' to allies and international business."
The European Saudi Organisation for Human Rights and ALQST, a London-based Saudi human rights group, have called on the authorities to drop the charges against Ms Ghomgham.
Read: Saudi king sacks country's head of entertainment after event featured female performers in tight costumes
The Saudi government has so far not commented on Ms Ghomgham's trial.
However, courts have sentenced to death several Shia activists after convicting them of what human rights groups have called politically-motivated charges.
Officials have said those executed were guilty of terrorism-related offences, including taking up arms against the government and attacking security forces.
Source: BBC