Novelist Sir VS Naipaul, who won the Nobel Prize in literature, has died aged 85, his family have said.
Sir Vidia, who was born in rural Trinidad in 1932, wrote more than 30 books including A Bend in the River and his masterpiece, A House for Mr Biswas.
His wife, Lady Naipaul, called him a "giant in all that he achieved".
She said he died at his home in London "surrounded by those he loved, having lived a life which was full of wonderful creativity and endeavour".
Geordie Greig, editor of the Mail on Sunday and a close friend, said his death leaves a "gaping hole in Britain's literary heritage", but there is "no doubt" that his "books live on".
American travel writer Paul Theroux, who had a bitter 15-year feud with Sir Vidia before reconciling, said: "He will go down as one of the greatest writers of our time."
Paying tribute to his friend, who he said had been in poor health, Theroux added: "He also never wrote falsely.
"He was a scourge of anyone who used a cliché or an un-thought out sentence. He was very scrupulous about his writing, very severe, too."
Salman Rushdie, who also disagreed repeatedly with Sir Vidia, said he was "as sad as if I just lost a beloved older brother".
Farrukh Dhondy, a writer and long-time friend of Sir Vidia, told BBC News that his writing was distinguished by its clarity, lack of self-indulgence and for his unique perspective on the post-colonial world.
"It's window pane prose. You're looking through a very clean, polished glass window at the object beyond," he said.
"He was one of the greatest literary talents of the last century, and he was quite a remarkable personality, with insights which I don't think anybody else had – on a personal level, on a broader civilisational level."
On social media, fans paid tribute to Sir Vidia and expressed their sadness.
Author Laila Lalami described him as a "wonderful stylist and a terrible curmudgeon", adding: "At his best, he could write with great tenderness and good humor [sic] about people whose lives were erased by colonial narratives."
British novelist and journalist Hari Kunzru recalled interviewing him and said: "When we sat down, the first thing he said was 'tell me what you've read and don't lie'. Only then would he consent to be questioned."
Writer Jeet Heer called him a "powerful novelist" who "at his best approached Conrad and even the shadow of Dickens", while blogger Patrice Yursik described him as a "titan of Caribbean literature".
One fan said "no-one inspired me to read more than Naipaul" while another tweeted that his novel A House for Mr Biswas "stayed with me as a lasting memory for 30+ years".
'Modern philosopher'
Sir Vidia, who as a child was read Shakespeare and Dickens by his father, was raised as a Hindu and attended Queen's Royal College in Trinidad.
He moved to Britain and enrolled at Oxford University in 1950 after winning a government scholarship giving him entry into any Commonwealth university of his choosing.
As a student, he struggled with depression and once attempted to take his own life.
His first book, The Mystic Masseur, was published in 1957. It was made into a film directed by Ismail Merchant in 2001.
In 1961 he published his most celebrated novel, A House for Mr Biswas, which took more than three years to write.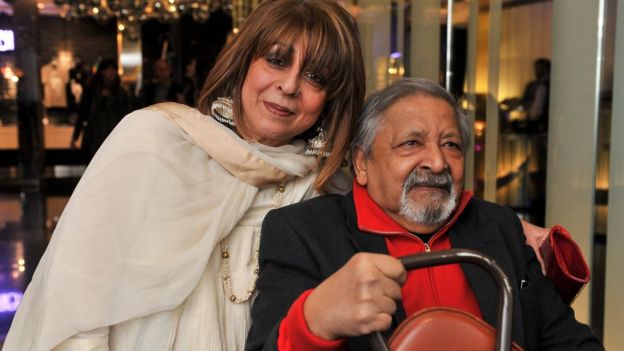 Sir Vidia, who was a broadcaster for the BBC's Caribbean service between 1957 and 1961, was one of the first winners of the Booker Prize, for In A Free State, in 1971.
Awarded the Nobel Prize in literature in 2001, the committee said Sir Vidia had "united perceptive narrative and incorruptible scrutiny in works that compel us to see the presence of suppressed histories".
It added: "Naipaul is a modern philosopher. In a vigilant style, which has been deservedly admired, he transforms rage into precision and allows events to speak with their own inherent irony."
His first wife, Patricia Hale, died in 1996 and he went on to marry Pakistani journalist, Nadira.
Sir Vidia was outspoken and became known for criticisms of Tony Blair – who he described as a "pirate" – as well as Charles Dickens and EM Forster.
He also fell out with the American travel writer Paul Theroux, who he had mentored, in a bitter 15-year feud, after Theroux discovered a book he had given Naipaul in a second-hand bookshop. They later reunited.
Source: bbc.com