I have been watching the newspaper scene here with deep anxiety. Every newspaper in the country is struggling. But in the wider context, that is not strange.
Well-established and prosperous newspapers around the world have folded up and staff levels have been reduced drastically.
I suppose my anxiety is not surprising really, seeing that it is with a newspaper that I started my working life.
The media generally, and newspapers in particular, are trying very hard to adapt to the changing times and the technology that has brought such dramatic changes to the industry.
The changes mean that "newspapers" are now online entities more than papers that you hold in your hands and read.
More people go to their phones and laptops to read the news and articles published in newspapers than from the paper.
So, is it still a newspaper when it is online and not at the newsagents?
Many of the famous newspapers have paywalls on the sites and you have to pay before you can read online.
Some say they are free but try to shame us readers into taking subscriptions and reminding us every day that unless we pay, they will go under.
Oldest
A few months ago, in July, one of the newspapers that contested the title of the world's oldest national newspaper printed its last daily edition almost 320 years after it began.
Wiener Zeitung, a Vienna-based daily newspaper, which was owned by the Austrian government but editorially independent, decided it would no longer print daily editions after a change in the law meant it could not be profitable any longer as a print product.
The law, which was passed by the Austrian government, ended a legal requirement for companies to pay to publish public announcements in the print edition of the newspaper, terminating Wiener Zeitung's role as an official gazette.
This change resulted in an estimated €18m loss of income for the publisher and forced the paper to cut 63 jobs, including reducing its editorial staff from 55 to 20.
It will now be published only online.
The newspaper began publishing in August 1703, and in its first edition, it said it would provide a straightforward account of the news "without any oratory or poetic gloss".
In 1768, it reported on a concert starring a certain "especially talented" 12-year-old named Wolfgang Amadeus Mozart.
In its last daily print edition, it ran an editorial blaming the government's new law for the end of its print run and said: "These are stormy times for quality journalism, on more and more platforms, serious content vies for attention with fake news, cat videos and conspiracy theories."
The EU Commission Vice-President Věra Jourová told the Austrian news agency, APA, that she was "not happy with the situation" at the newspaper.
She might not be happy with the situation, but that has not changed the fact that the newspaper has closed its print edition.
Rules
Over here, our newspapers seem to defy all the economic rules.
I am told many of them don't pay their staff, period.
There are some of the newspapers that I have never seen at a newsagent, nor a traffic light, being hawked by one of the enterprising young men.
Many of the newspapers, I am told, make no effort to even sell copies and consider their work done, when stories they have published are listed for discussion on the morning shows of the radio and television stations.
The newspaper reading habits of the public are even more worrying.
I write a column for the Daily Graphic and out of ten people who call or send me messages about what I write, it is very rare that there would be two people who would have seen the article and read it in the newspaper; almost all of them would have read it online.
But it is not a problem of people only reading articles online.
It looks like the few people who buy or read newspapers only do so on working days, or maybe read copies that are bought for their offices.
Why else are newspapers no longer published on public holidays that fall on weekdays?
The publishers know that nobody will buy them.
I know we have always had difficulty with people buying papers at weekends.
Cecil King and the Mirror Group who established the Graphic discovered this quite early and that is why the Sunday Mirror newspaper was sold on Saturdays and not on Sundays.
It then became The Mirror.
It looks like we do not read newspapers at home.
I am sure Tarzan would have something to say on this, having tried to break the Sunday taboo and failed.
So, maybe I shouldn't get excited about an article I read a few days ago about an attempt to break the online newspaper stranglehold.
In this digital age of 24-hour rolling news, when newspapers worldwide are investing resources in their online editions, a US publisher has gone back in time and launched a print-only broadsheet in the style of a 19th-century newspaper.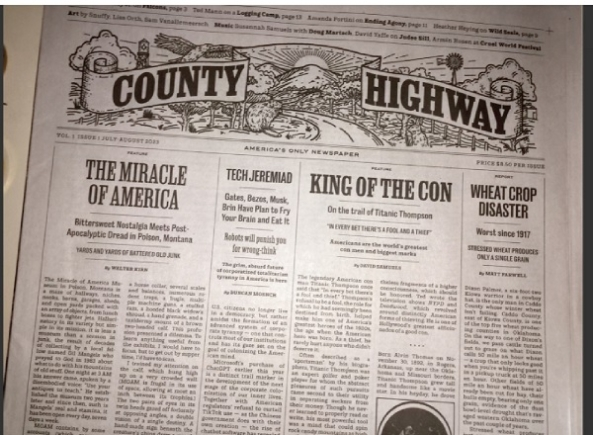 Called County Highway, the publisher says it is responding to a demand from readers for in-depth stories and writing that needs time to savour.
And it will not have an internet edition.
Repeat, it will not have an internet edition.
"People read differently on the printed page than they do on a screen," said the newspaper's editor, David Samuels.
"The printed page is an immersive experience without constant distractions or the spectre of other people's responses on social media.
It's a much more enriching and human experience."
An editor's note co-written with the newspaper's editor-at-large really hit home with me.
It said: "We are deeply and personally bored to death of hyperbolic chatter about politics, gadgets and the semiotics of Taylor Swift from people who know nothing and come from nowhere."
The newspaper costs $8.50 per copy.
The first issue had no advertising.
However, through word of mouth, its 25,000 copies sold out.
The publisher, Donald Rosenfeld, is quoted as saying he believed that there was a demand for in-depth articles: "I think we're bringing water to the desert.
It's an overnight success.
"Someone called from a large corporation and said: 'I want to buy 1,000 subscriptions to give to my workers.
Rather than have them doing their Instagram pages and Facebook, I'm going to tell them: 'Read something that's actually elevating.'"
In a place where the major problem is about people not being able to read at all, I know it is absurd to be worrying about whether people are reading online or on paper.
But how I wish there were enough people here who are "deeply and personally bored to death of hyperbolic chatter from people who know nothing" and who would support a newspaper that you can hold in your hand and which stimulates ideas.