Intense wildfires in Canada have resulted in poor air quality levels, leading authorities to advise millions of people in North America to wear N95 masks when outdoors.
In response, New York has announced the distribution of free masks starting Thursday. Canada has recommended mask usage for those unable to stay indoors.
Officials have warned that the hazardous smoky conditions are likely to persist throughout the weekend.
The majority of the smoke is originating from Quebec, where approximately 150 fires are currently burning.
With over 15,000 residents expected to be evacuated in the province, it has become Quebec's most severe fire season on record. New York Governor Kathy Hochul has stated that one million masks will be provided to residents of the state on Thursday.
"This is a temporary situation. This is not Covid," she said at a news conference. The governor added that New York City buses and trains have high-quality air filtration systems that make them safe forms of travel.
Environment Canada has said that conditions are worsening in Toronto on Thursday, as more smoke pours in.
In a special weather bulletin on Wednesday, the agency recommended that anyone outdoors wear a mask.
Hundreds of #wildfires are raging across #Canada . The devastating fires have displaced more than 20,000 people and scorched about 3.8 million hectares of land in the country.pic.twitter.com/Ttna2SkmOS

— KGFChandra (@FieldsKolar) June 8, 2023
"These fine particles generally pose the greatest risk to health. However, respirators do not reduce exposure to the gases in wildfire smoke," the Environment Canada statement said.
Meanwhile, the US Environmental Protection Agency (EPA) classified the air quality in much of the north-east as "unhealthy" especially for people with respiratory concerns.
In total, millions of people around North America are thought to be under a form of air quality warning.
In New York, an orange haze blanketed the city's skyline and shrouded landmarks including the Statue of Liberty.
"We recommend all New Yorkers limit outdoor activity to the greatest extent possible," Mayor Eric Adams warned on Wednesday.
Zoos have brought animals indoors, and in New York, carriage horse rides have been suspended.
On Wednesday, schools in the Washington DC area also cancelled outdoor activities as air quality levels were labelled "code red", while Detroit was listed as the fifth worst major metropolitan area in the world on IQAir's air pollution rankings.
Public health officials have cautioned people not to exercise outside and to minimise their exposure to the smoke as much as possible, as the air poses immediate and long-term health risks.
Canadian officials say the country is shaping up for its worst wildfire season on record.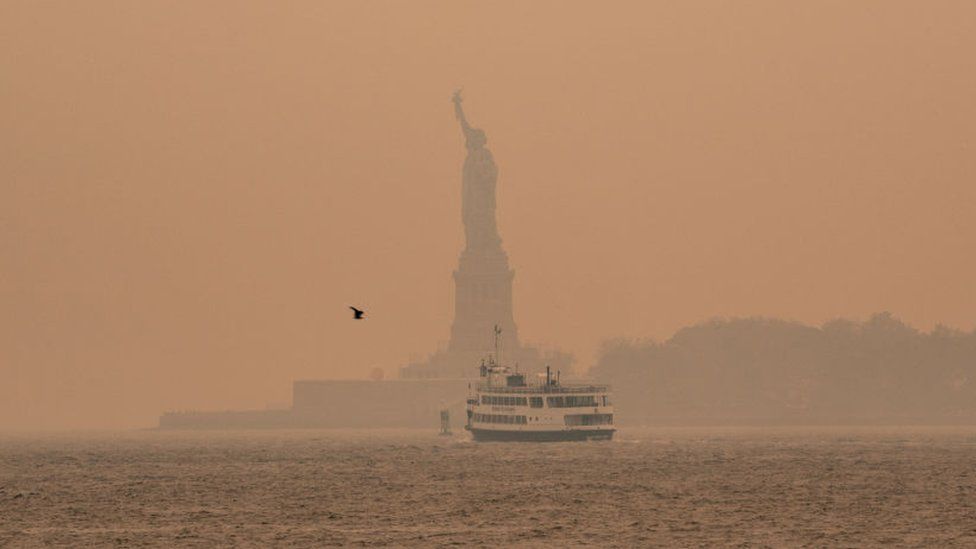 Experts have pointed to a warmer and drier spring than normal as the reason behind the trend. These conditions are projected to continue throughout the summer.
Fires across Canada have already burned more than 3.8m hectares (9.4m acres) of land – an area 12 times the 10-year average for this time of year.
More than 600 US firefighters have been sent to Canada to assist local officials, the White House announced on Wednesday.
Also on Wednesday, US President Joe Biden and Canadian Prime Minister Justin Trudeau held a phone call to discuss the current situation.
Climate change increases the risk of the hot, dry weather that is likely to fuel wildfires.
The world has already warmed by about 1.2C since the industrial era began, and temperatures will keep rising unless governments around the world make steep cuts to emissions.
Credit: BBC