Former President of the United States of America (USA) Donald John Trump says he expects some members of the security particularly the FBI to pick him up in a swoop arrest come Tuesday March 21, 2023.
On Saturday, Trump announced he would be arrested on Tuesday in a criminal case involving hush money payments to adult film star Stormy Daniels, but there has been no official confirmation on the likelihood that charges will be brought.
Top Republicans, including some of Donald Trump's potential rivals for the party's 2024 presidential nomination, rushed to his defence after the former president said he expected to be arrested next week.
"The idea of indicting a former president of the United States is deeply troubling to me, as it is to tens of millions of Americans," said former vice-president Mike Pence, who is widely expected to launch a campaign for the Republican nomination in the coming weeks.
The reaction underscores the political risks faced by would-be opponents who are eager to convince voters that it is time to move on from the former president, but who must contend with the fact that he remains the most popular figure in the party.
Trump garnered similar support last summer after the FBI searched his Mar-a-Lago club as part of an investigation into his handling of classified documents. The search also proved a fundraising boon.
Among those coming to Trump's defence on Saturday were House speaker Kevin McCarthy, who said a possible indictment would be "an outrageous abuse of power by a radical DA [district attorney] who lets violent criminals walk as he pursues political vengeance" against Trump.
McCarthy said he would direct relevant Republican-led House committees "to immediately investigate if federal funds are being used to subvert our democracy by interfering in elections with politically motivated prosecutions". McCarthy has not endorsed Trump's White House campaign, but Trump helped McCarthy secure the speakership after a contentious campaign that required multiple rounds of voting.
McCarthy's predecessor as speaker, Democrat Nancy Pelosi, said in a statement, "the former president's announcement this morning is reckless: doing so to keep himself in the news and to foment unrest among his supporters."
"He cannot hide from his violations of the law, disrespect for our elections and incitements to violence."
On Saturday, Trump posted a message on his Truth Social platform, referring to himself in the third person, saying: "The far and away leading Republican candidate and former president of the United States of America will be arrested on Tuesday of next week."
Law enforcement officials in New York have been making security preparations for the possibility that Trump could be indicted, but there has been no public announcement of any timeframe or any indictment.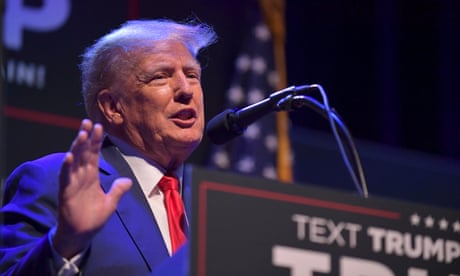 A spokesperson and a lawyer for Trump said later on Saturday that his post was based on media reports rather than any actual update from, or communication with, prosecutors. Trump's post cited "illegal leaks from a corrupt and highly political Manhattan district attorney's office".
The district attorney's office declined to comment.
In his post, Trump called on his supporters to "PROTEST, PROTEST, PROTEST!!!"
The post evoked the message from the then-president that preceded the insurrection by extremist supporters at the US Capitol on 6 January 2021 which ultimately failed to thwart the certification of Joe Biden's victory.