At the Grammy Awards in February, Harry Styles experienced a nightmare when the stage he was on began to turn in the opposite direction.
When a technical issue caused their stage to go backward, the performer and his dancers had to hastily alter their act.
But rather than berate the technicians, Styles "called the team in charge to make sure they were OK," says Grammys set designer Julio Himede.
The mishap "was heart-breaking," he told the BBC's Eurovisioncast podcast.
"In rehearsals his performance was so polished. I was sitting there admiring how amazing Harry and his dancers were to just run with it and cope with it.
"To continue the performance live and all of a sudden think, 'I have to just go in reverse now', is quite incredible".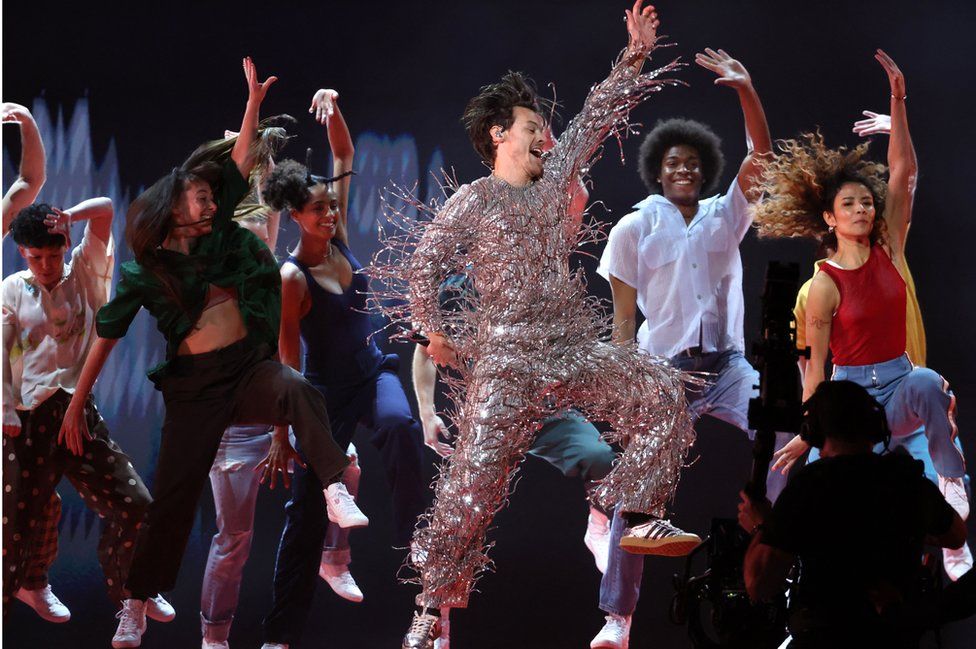 After the Grammys, Himede's next major project is the set design for the 2023 Eurovision Song Contest.
He said mishaps like the one Styles endured show why multiple rehearsals are so important for live television.
"What's really interesting about working on Eurovision is that we have 37 artists performing on that stage," he told Eurovisioncast.
"Whereas, when we do the Grammy's we might have up to 13 performances. Everything [at Eurovision] is bigger and larger. Everything's faster."
He explained that a typical award show has three minutes between performances. At the song contest, the stage has to be reset in less than 60 seconds.
"It is mesmerising because most people don't realise, unless you're there in the arena, what it takes.
"It's chaotic, but it's organised chaos".
https://emp.bbc.com/emp/SMPj/2.47.3/iframe.htmlMedia caption,
Watch: Mae Muller's song entry for Eurovision 2023 and fan reaction
This year's Eurovision stage is based on the themes of "togetherness, celebration and community", acknowledging that the UK is hosting the show on behalf of last year's winners, Ukraine.
The stage "takes inspiration from a wide hug, opening its arms to Ukraine, the show's performers and guests from across the world," Himede said when his design was unveiled last month.
Construction will begin construction at Liverpool's M&S arena by the end of the month, with several previously-booked shows cancelled or moved to make way for the competition.
Weeks of rehearsals will be held to ensure that none of the performers suffer a similar fate to Styles, in front of the contest's 160 million viewers.
Tickets for the nine shows in Liverpool sold out in 90 minutes last week, with fans being warned that hotels they have booked are being targeted by phishing email cyber-attacks putting their data at risk.
Source: BBC