Flybe has cancelled all flights to and from the United Kingdom as a result of going into administration.
The airline "ceased trading," according to a statement on its website, and advised any passengers expecting to fly with it not to go to the airport.
It added that it would not be able to assist travellers in finding substitute flights.
The affected parties will receive guidance and information, according to the UK Civil Aviation Authority (CAA).
The business, which was only relaunched in April of last year, has been taken over by administrators.
In March 2020, it announced it would cease trading, citing the coronavirus pandemic as a contributory factor.
The company was rescued after being bought by Thyme Opco, a firm linked to US hedge fund Cyrus Capital and subsequently renamed Flybe Limited.
The airline resumed operations in April 2022, with a plan to operate up to 530 flights per week across 23 routes.
Until the most recent collapse, Flybe operated flights on 21 routes from Belfast City, Birmingham, and Heathrow to airports across the UK as well as to Amsterdam and Geneva.
A statement published on the Flybe website early Saturday said the High Court had appointed joint administrators for Flybe Limited.
"Flybe has now ceased trading, and all flights from and to the UK operated by Flybe have been cancelled and will not be rescheduled," it read.
"If you are due to fly with Flybe today [Saturday] or in the future, please do not travel to the airport unless you have arranged an alternative flight with another airline."
It added that anyone who had booked a flight with the airline via an intermediary should contact that intermediary directly.
One passenger who was due to take a Flybe service this morning was Chris Donnelly, who was scheduled to fly from Belfast City to Heathrow at 07:25 GMT.
At 03:07 he received an email from Flybe which stated his flight had been cancelled and the company had gone into administration, advising passengers not to travel to the airport.
Mr Donnelly, a school principal and political commentator, was on his way to the airport when he saw the email.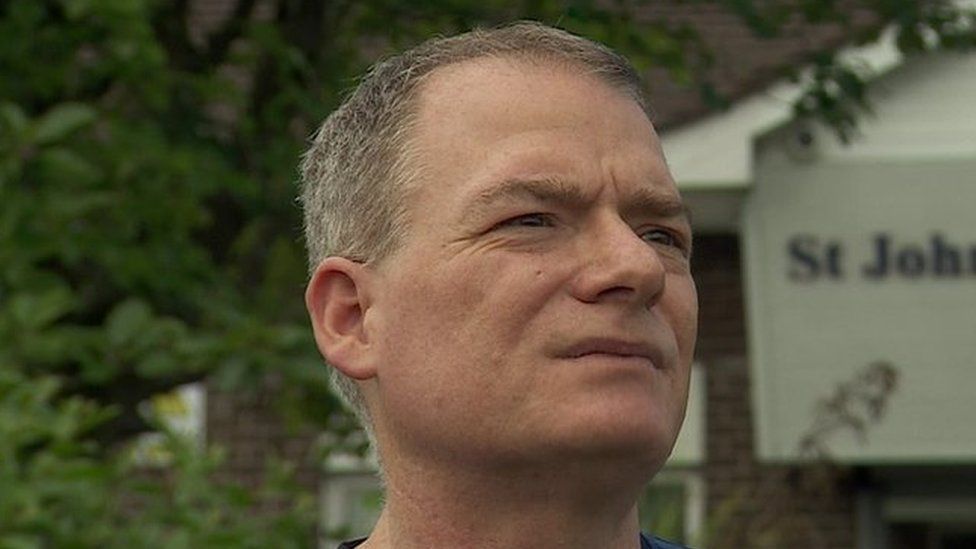 He was able to book an alternative flight from Belfast to Gatwick, but doing so at short notice was inconvenient.
He added that he had booked train tickets from Heathrow into central London costing £50, which were of no use to him now.
Matthew Hall, chief executive of Belfast City Airport, which has the highest number of Flybe staff in the UK, with 138 employees, said his thoughts were "with Flybe employees and passengers".
He said anyone booked onto Flybe flights should not travel to the airport, and eight of its 10 Flybe routes were covered by other providers.
'How are they making a profit?'
The airline also flew from Cornwall, with routes from Newquay to London Gatwick and Manchester.
Louis Gardner, economy leader for Cornwall Council, said the news had come as a "real shock" and efforts would be made to find other providers for the routes.
Seamus McCoy, who used Flybe regularly to travel between Newquay and London, told BBC Radio Cornwall: "Every time I've flown, I've always thought: 'How are they making a profit?' because the planes have never been more than 50% full."
CAA consumer director Paul Smith said: "It is always sad to see an airline enter administration and we know that Flybe's decision to stop trading will be distressing for all of its employees and customers.
"For the latest advice, Flybe customers should visit the Civil Aviation Authority's website or our Twitter feed for more information."
The government said its "immediate priority" would be to support anyone trying to get home and Flybe staff who have lost their jobs.
"This remains a challenging environment for airlines, both old and new, as they recover from the pandemic, and we understand the impact this will have on Flybe's passengers and staff," it said.
It said most destinations served by Flybe in the UK were accessible through alternative means of transportation.
Customers should "almost certainly" get their money back from their card issuer or travel agent, the Independent's travel correspondent Simon Calder said.
He told BBC Radio 4's Today: "Of course finding alternative flights is going to be a problem, and they are going to be more expensive than the ones they originally bought with Flybe."
He said while there had been a recent surge in demand for air travel, Flybe had "fairly thin pickings" of travel routes when it returned to operation, and had struggled with passenger loads on its flights.