It was at his elite boarding school in West Africa that Kofi Annan – the man who would later become the world's top diplomat – learnt one of his most important lessons.
It was, he said later, "that suffering anywhere concerns people everywhere".
The idea seems to have inspired Annan throughout a life which saw him play a key role in the crises which have shaped the world, from the HIV/Aids pandemic, to the Iraq War and, latterly, climate change.
Read: The Guardian tribute to Kofi Annan
His humanitarian work would win him a Nobel Peace Prize, but it would also win him a raft of critics.
Annan, the first black African to lead the United Nations, would nonetheless became one of the most enduring and recognised diplomats in modern history.
Changing times
Kofi Atta Annan and his sister, Efua Atta, were born in the city of Kumasi in what was then Gold Coast in April 1938. The twins' first names meant "born on a Friday" in Akan, while their shared middle name means "twin".
He grew up in a wealthy family – his grandfathers were traditional leaders, while his father became a provincial governor – in a country still under British rule.
Read: Kofi Annan protected us from our worst instincts
Then, two days before the future diplomat turned 19, the country finally won its independence, becoming Ghana.
The impact on Annan's later life cannot be underestimated.
"I walked away as a young man convinced that change is possible, even radical revolutionary change," Annan told a group in Canada in 2012.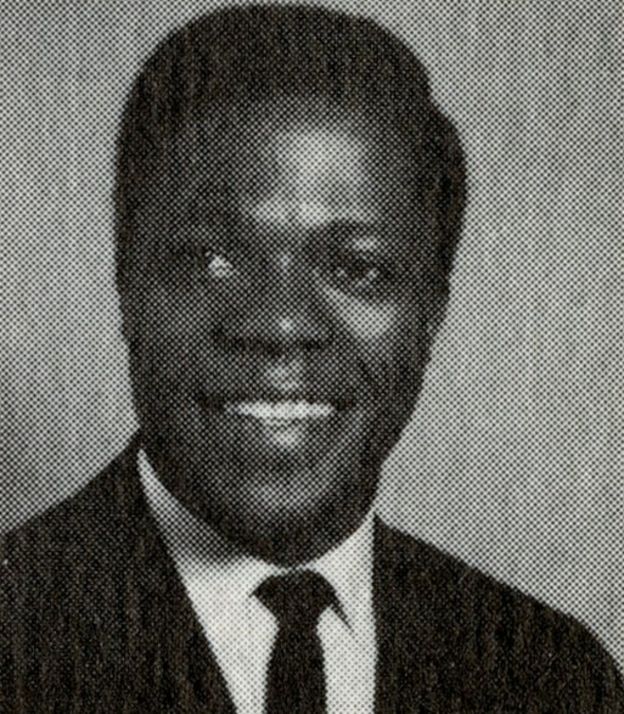 After studying at university, first in the newly liberated Ghana, followed by Macalester College in the US, he got his first job with the UN.
Read: Kofi Annan was the United Nations – Guterres
The position – a budget officer with the World Health Organization (WHO) – gave no hint as to the career he was to have over the next four decades, culminating in 1997 when he was elected secretary-general.
But before he got there, he would face one of the biggest scandals of his career.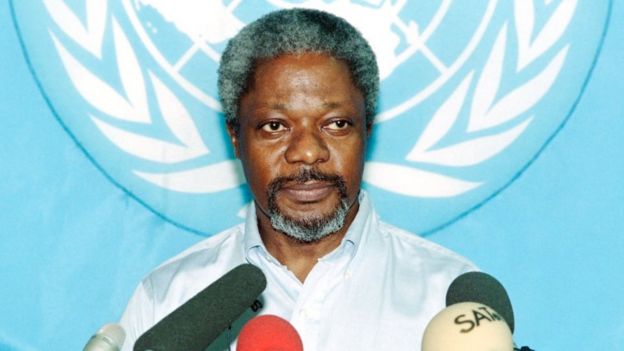 By 1993, Annan had risen to the post of under secretary-general and head of peacekeeping.
Genocide
The next year, up to 800,000 ethnic Tutsis and moderate Hutus were massacred in 100 days in Rwanda.
Then, in 1995, up to 8,000 Muslims were executed by Serbian forces in a so-called UN safe area in Bosnia.
In both cases, Annan and his department came under fire – especially after it emerged that his department had largely ignored information that had been passed to them, warning that the Rwandan genocide was being planned.
On the 10th anniversary of the genocide, Annan acknowledged his shortcomings.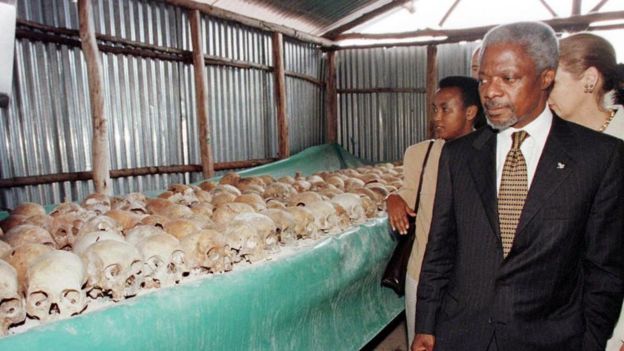 "I myself, as head of the UN's peacekeeping department at the time, pressed dozens of countries for troops," he said in 2004. "I believed at that time that I was doing my best.
Read: Kofi Annan spent last days with wife and children
"But I realised after the genocide that there was more that I could, and should, have done to sound the alarm and rally support. This painful memory, along with that of Bosnia and Herzegovina, has influenced much of my thinking, and many of my actions, as secretary-general."
Despite this, in 1997, at the age of 59, Annan would succeed Boutros Boutros-Ghali as UN secretary-general.
Conflict
Annan had inherited an organisation which, after 52 years, was on the brink of bankruptcy.
He set about reforming the institution, cutting 1,000 jobs out of 6,000 positions at the New York headquarters, while also trying to convince reluctant member states to take responsibility for the world's many tragedies.
Annan also got the US to pay a backlog of debt it owed the UN.
He also turned his attention to the future, establishing the Millennium Goals – an ambitious set of priorities to meet by 2015, from halving extreme poverty rates to halting the spread of HIV/Aids.
But it was not an easy job.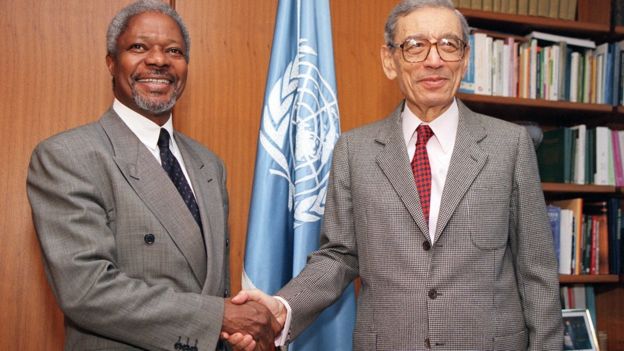 "I used to say the letters SG do not stand for secretary-general, they stand for scapegoat," he told the BBC.
In 2001, Annan and the UN were awarded the Nobel Peace Prize. The citation lauded Annan, the second UN Secretary General to be given the prize, as someone who had brought "new life to the organisation".
Read: Kofi Annan left trail of pleasant memories – Akufo-Addo mourns
The same year, he was unanimously re-elected for a second term.
But trouble was just around the corner.
Scandal
In 2003, the US – one of Annan's biggest supporters – announced its intention to go to war in Iraq. In the end, the US bypassed the UN and invaded Iraq with a voluntary coalition.
This drove a wedge between Annan and the superpower. Speaking about the invasion, he later told the BBC: "From our point of view and from the charter point of view, it was illegal."
This new divide between Annan and the US caused him problems after the "oil for food scandal", which emerged in 2004, implicated the secretary-general, both professionally and personally.
Kofi Annan: Key dates
1938:Â Born in Kumasi, now Ghana's second city
1962:Â Starts working at the United Nations in Geneva, Switzerland
1965:Â Weds Titi Alakija. They have two children, a boy and a girl
1984:Â Marries Nane Lagergren, having divorced a year earlier
1991:Â Twin sister Efua dies
1993:Â Becomes head of peacekeeping operations
1997:Â Appointed seventh Secretary-General of the United Nations
2001:Â Wins Nobel Peace Prize
2006:Â Steps down as secretary-general after 10 years
2012:Â Becomes UN/Arab League Joint Special Envoy on the Syrian crisis
2013:Â Made chair of The Elders, a peace and human rights advocacy group
2016:Â Leads the Advisory Commission on Rakhine State, Myanmar

The programme, which was started in 1996 to sell limited quantities of oil from sanction-hit Iraq in return for humanitarian supplies, had been subverted by some of those involved, including businesses, UN officials, international politicians and diplomats.
But more problematic was the fact Annan's only son, Kojo, had received payments from a company, which was contracted to monitor the programme.
An inquiry the next year cleared him of having used improper influence on behalf of his son, but did find failings in how he had overseen the programme.
In the US, politicians called for his resignation. His reply? "Hell, no."
Retirement
But 18 months later, in December 2006, he did step down. Now almost 70, it was an age when most people would be glad to put their feet up.
He and his second wife, Swedish lawyer Nane Marie Lagergren, who married in 1984, decided to escape to Italy for a six-week break.
According to The Guardian, after just a week he was bored and decided to venture out to buy a newspaper – only to be surrounded by a gaggle of men wanting his autograph.
Unfortunately, they had mistaken him for US actor Morgan Freeman. Not wanting to let them down, he signed Mr Freeman's name and fled.
Perhaps the speed with which he became bored was an indicator of what was to come: he set up the Kofi Annan Foundation, which promotes global sustainable development, security and peace, in 2007.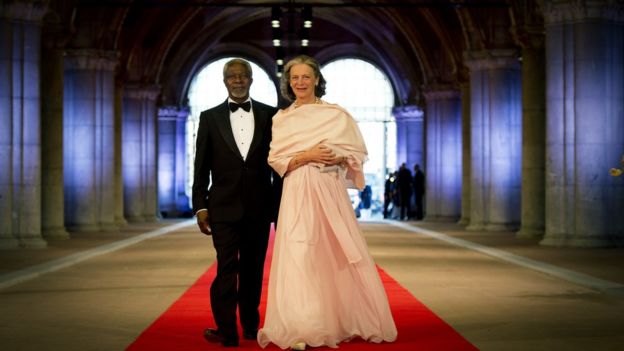 The next year, he led perhaps his most successful diplomatic mission.
The power-sharing agreement he helped broker between Kenyan opposition leader Raila Odinga and former President Mwai Kibaki put an end to the post-election violence which had left at least 1,000 people dead, and forced 300,000 to flee their homes.
In 2012, he was appointed Joint Special Representative for Syria by the UN and the Arab League, as they tried to find an end to the war.
The next year, Annan was appointed the chair of the Elders, a group started by South Africa's Nelson Mandela, which brings together former world leaders to work together for peace and human rights.
In 2016, following a request from Myanmar's de facto leader Aung San Suu Kyi, he became head of an independent commission investigating the Rohingya crisis in her country.
He continued to be vocal on issues like climate change, and an open critic of "macho leaders who believe they have to shine".
"I've discovered retirement is hard work," Annan joked in an interview with the BBC to mark his 80th birthday.
Source: BBC