Following the death of Member of Parliament (MP) for Kumawu, Philip Basoah, residents of the area will vote in a by-election on May 23, 2023, to choose a new representative.
While everything now seems set for the election, a development in the names of two out of the four candidates who have been approved by the Electoral Commission to contest in the election has got political watchers now paying closer attention to the contest.
Prior to the announcement of the notice of poll by the EC, the contest had already generated interest as the elected candidate of the New Patriotic Party (NPP), Ernest Yaw Anim, was expected to face stiff competition in the bid of his party to retain the seat.
His closest contenders include a former member of the party in the constituency, Kwaku Duah, who chose to run independently against the deceased MP in the 2020 election.
Mr. Duah came second in the 2020 contest with a total valid vote of 11,698, representing 39.96% of the total votes, as against Mr. Basoah who won the race with 14,960 valid votes, representing 51.11% of the total votes.
Aside from having to contend with Kwaku Duah, who has also decided to contest again in the upcoming election, the NPP also has to worry about the candidate of the opposition National Democratic Congress, Kwasi Amankwah, who some believe may be able to take advantage of the situation and grab a win, even though the Kumawu Constituency is traditionally an NPP seat.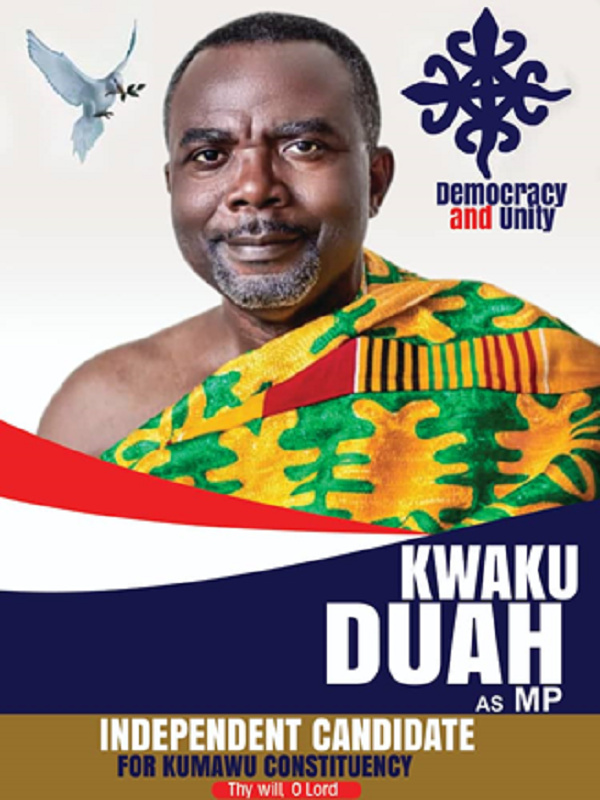 However, in what some people believe to be a move sponsored by the ruling NPP, another candidate also bearing the name Kwaku Duah has joined the contest as an independent candidate.
Relatively unknown to the electorate until the declaration of his intent to contest in the election, some critics believe the young independent candidate, who hails from Bodomase, is being sponsored by the NPP in a clever strategy to derail the prospects of the leading independent candidate.
Per the rules of the EC, independent candidates, when it comes to their appearance on the ballot paper, only have the advantage of "first come, first serve" after the position of candidates representing registered political parties is determined.
Thus, come May 23, the two Kwaku Duahs will appear in consecutive order at the bottom of the ballot paper.
Strikingly, the new Kwaku Duah chose a dove as his symbol on the ballot paper, just like the senior Kwaku Duah.
Other candidates in the race for the Kumawu by-election are candidates of the Convention People's Party and the Liberal People's Party, bringing the total number of contenders to six.