The root cause of South Africa's worst-ever power outage lasting up to 16 hours each day has been identified as bad management, fraud, and sabotage.
Late one Thursday afternoon, last November, a maintenance contractor reached his hand under a huge rotating shaft at an ageing power station in South Africa.
It took the man just a few seconds to unscrew a steel plug, smaller than a coffee mug.
As he moved away from the scene, precious lubrication oil quickly began seeping from the innards of the shaft. The steel bearings inside overheated and before long the coal mill, and with it one of the station's eight turbines, ground to a sudden, and expensive, halt.
If you are looking to understand South Africa's current struggles – its soaring crime and unemployment rates, its stubborn inequality and stagnant economy, its relentless corruption and crippling power cuts, and its broader drift towards what some fear could become "gangster state" or even "failed state" territory – then this one act of industrial sabotage, at a coal-fired power station on the high plains east of Johannesburg, is a good place to start.
The alleged saboteur, Simon Shongwe, 43, was working as a sub-contractor at Camden – a plant that was built back in the 1960s, bombed by anti-apartheid activists in the 1980s, mothballed in the 1990s, and more recently brought out of retirement to help a country now battling to keep the lights on.
There are several theories about the alleged sabotage.
It could have been designed to break the coal mill in order to enable a corrupt repair company to come and fix it at an inflated cost.
It might have been done as a way of threatening Camden's management in to accepting some other corrupt contract.
Or it may have been part of a broader political conspiracy to damage South Africa's energy infrastructure and undermine an ANC government increasingly seen as floundering after nearly three decades in power.
What is certain is that the sabotage at Unit 4 was not an isolated event.
Instead, it was one relatively small act in a vast, ongoing, and highly successful criminal enterprise that involves murders, poisoning, fires, cable theft, ruthless cartels and powerful politicians.
It is an enterprise that risks derailing international attempts to nudge South Africa away from its dependence on coal and towards renewable energy sources.
Over the past decade it has brought South Africa's once-world-class public power utility, Eskom, to the brink of collapse and left most homes around the country in darkness for many hours each day.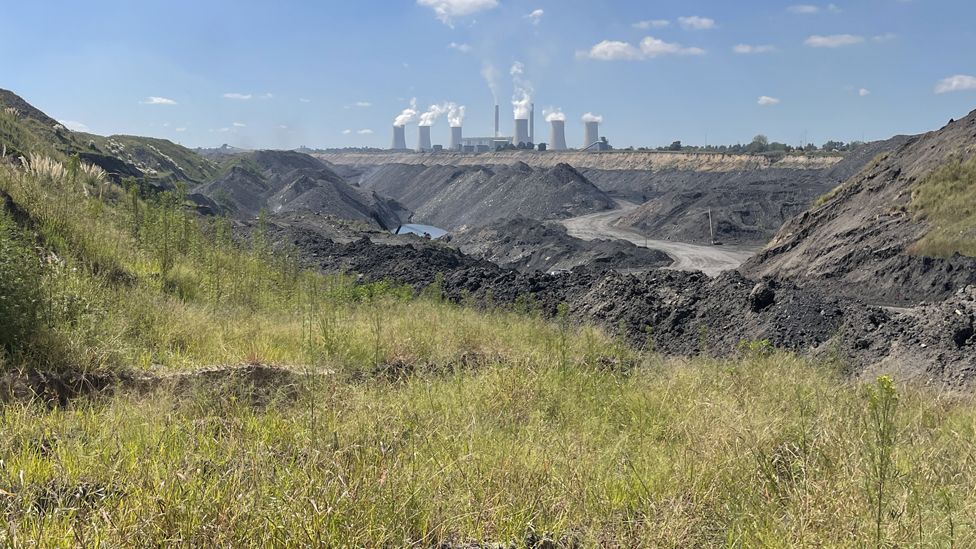 One month after the incident at Camden, on a secure floor of a large grey office block on the northern outskirts of Johannesburg, a much smaller machine was causing problems.
The coffee dispenser for the executive management team at Eskom was faulty. Or so it seemed.
When the CEO's assistant came over to fill her boss's personalised mug, there was a delay.
She left the mug unattended for a few minutes, and then, once the machine had been serviced, she returned to the CEO's office with his coffee.
"I detected nothing. The foam consistency was a bit different to normal, but I thought nothing of it," Andre de Ruyter reflected later, in an explosive interview he gave to the South African broadcaster, eNCA.
But 15 minutes later, the man in charge of South Africa's power utility suddenly felt off-balance. Before long he was shaking violently, gasping for air, and "extremely nauseous".
His security guards rushed him to a nearby clinic.
His doctors later confirmed that Mr De Ruyter had been poisoned with cyanide, possibly mixed with rat poison in order to mask the presence of the cyanide in any blood tests.
He was lucky to survive.
"So, this is where the executives serve themselves with coffee," said Eskom's head of security, Karen Pillay, showing us around the office one recent afternoon.
"I consider it a dangerous space. I'm still scared for my life, every day. Absolutely."