Ghana has exceeded the thresholds set in the Debt Sustainability Analysis (DSA), resulting in the country experiencing debt distress, according to the International Monetary Fund (IMF).
In a statement titled "Request for an arrangement under the Extended Credit Facility Programme," the IMF stated that Ghana's debt level is not only unsustainable but also breaches the DSA thresholds.
"Given the ongoing debt restructuring and large and protracted breaches to the Debt Sustainability Analysis (DSA) thresholds, Ghana is in debt distress, and debt is assessed as unsustainable".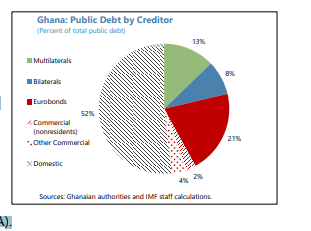 By the end of 2022, the public debt in Ghana had risen to 88.1% of the Gross Domestic Product (GDP), with almost an equal distribution between external debt (42.4% of GDP) and domestic debt (45.7% of GDP). The International Monetary Fund (IMF) also noted that the country's gross financing needs amounted to approximately 19% of GDP.
"Under the proposed programmes baseline projections, which do not consider the possible outcome of the ongoing debt restructuring, the ratios of present value of public and external debt to GDP, and the ratios of external debt service to revenues and exports are and would remain above their LIC-DSF thresholds over the medium and long term", it added.
Additionally, the IMF has cautioned that the outlook carries significant downside risks.
The baseline projections rely on the successful execution of the programme and prompt implementation of the government's comprehensive debt restructuring strategies and plans to tackle the substantial amount of domestic arrears, including those owed to independent power producers (IPPs).
Notwithstanding mitigation strategies, it said that the domestic debt exchange presents significant risks to domestic financial sector stability, adding "exchange rate, credit, and liquidity risks further add to the vulnerabilities".
"The authorities' debt restructuring plans still leave a substantial need for T-bill [Treasury bills] issuance in the near term and expose Ghana to the uncertainty in domestic market conditions, though programme implementation and outreach may help mitigate financing risks. Domestic policy slippages represent a significant downside risk to the projections, further compounded by risks associated to the end-2024 general elections."