Diplomatic sources in the region and in Sudan has revealed that the Russian mercenary company Wagner has been delivering missiles to the Rapid Support Forces of Sudan to help them in their conflict with the national army.
The sources said the surface-to-air missiles have significantly buttressed RSF paramilitary fighters and their leader Mohamed Hamdan Dagalo as he battles for power with Gen. Abdel Fattah al-Burhan, Sudan's military ruler and the head of its armed forces.
In bordering Libya, where a Wagner-backed rogue general, Khalifa Haftar, controls swathes of land, satellite imagery supports these claims, showing an unusual uptick in activity on Wagner bases.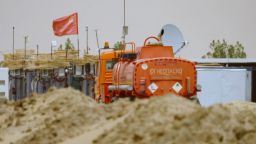 EU sanctions Wagner subsidiary in Sudan after CNN investigation into gold exploitation
The powerful Russian mercenary group has played a public and pivotal role in Moscow's foreign military campaigns, namely in Ukraine, and has repeatedly been accused of committing atrocities. In Africa, it has helped to prop up Moscow's growing influence and seizing of resources.
Dagalo and Burhan had been jockeying for power in negotiations over restoring civilian leadership in Sudan before talks broke down, erupting into some of the worst violence the country has seen in decades.
The fighting has claimed hundreds of lives and deprived millions of people from electricity, water and food.