The Prime Minister, according to a Downing Street spokesperson who spoke to CNN on Thursday, "will make a statement to the country today."
News of Boris Johnson's resignation as leader of the Conservative Party was first reported by the BBC earlier today.
PA Media had earlier reported, citing a Downing Street source, that Johnson had talked to Conservative Party 1922 Committee chairman Graham Brady and agreed to step down. A new leader is expected to be in place by the party conference in October.
Johnson will make statement later today
As we've been reporting, Boris Johnson will resign as Conservative leader today and will continue as prime minister until the autumn.
Johnson will publicly announce his resignation later today.
A No 10 spokesman said: "The prime minister will make a statement to the country today."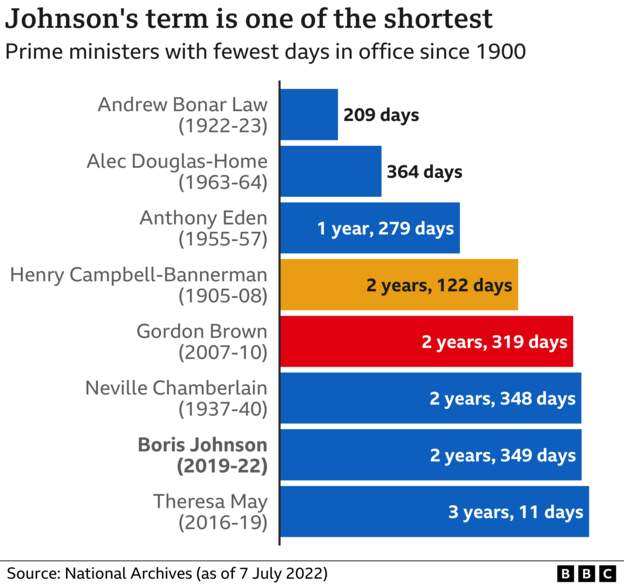 Caroline Johnson resigns as Tory party vice chair
Caroline Johnson has resigned as vice chair of the Conservative Party.
In her resignation letter, the Conservative MP for Sleaford & North Hykeham said she hadn't arrived at the decision "lightly" and it had been a "privilege" to serve in her position.
"It is with great sadness, however, that I recognise that over time the cumulative effect of your errors of judgement… have squandered the goodwill of our great Party," Johnson wrote to the PM.
"I believe that attempting to stay when the writing is on the wall can only damage our Party and therefore our country."
— Dr Caroline Johnson MP (@drcarolinej) July 7, 2022
I am heartbroken the PM hasn't listened – Zahawi
More now from Chancellor Nadhim Zahawi's letter telling the prime minister to "go now", after only being appointed to the role two days ago.
His letter to the PM reads: "When asked to become Chancellor, I did it out of loyalty. Not a man, but loyalty to this country and all it has given me.
"Yesterday, I made clear to the prime minister alongside my colleagues in No 10 that there was only one direction where this was going, and that he should leave with dignity.
"Out of respect, and in the hopes that he would listen to an old friend of 30 years, I kept this counsel private.
"I am heartbroken that he hasn't listened and that he is now undermining incredible achievements on the government at this late hour.
"But the country deserves a government that is not only stable, but which acts with integrity."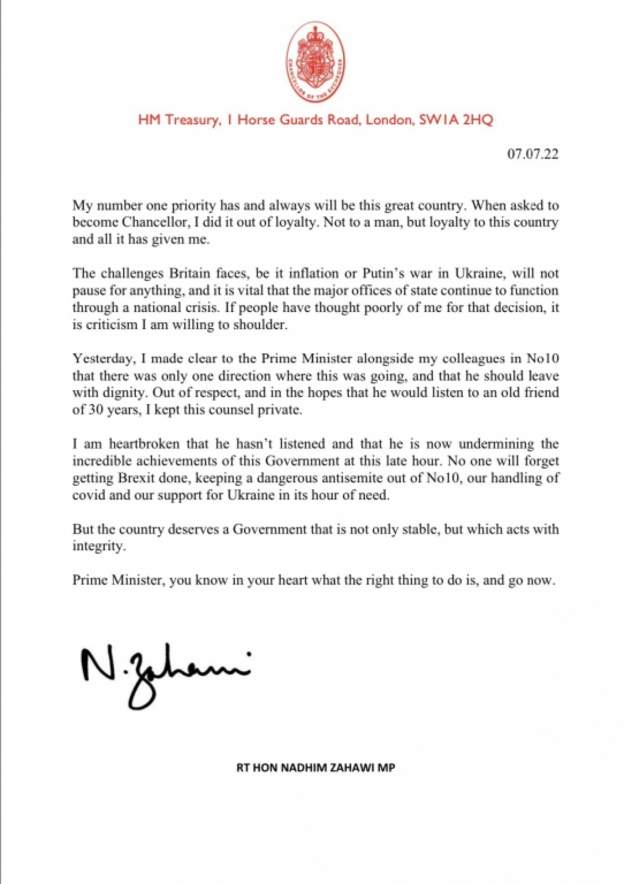 Education Secretary Michelle Donelan resigns
Education Secretary Michelle Donelan has resigned.
Donelan was only appointed on Tuesday evening to replace Nadim Zahawi after he was made chancellor.
In her resignation letter to the prime minister, she says: "Yesterday, I pleaded with you to do the right thing and resign for the sake of our country and our party, both are more important than any one person.
"I see no way that you continue in post, but without a formal mechanism to remove you it seems that the only way this is only possible, is for those of us who remain in cabinet to force your hand."
She says the PM has put ministers in an "impossible situation".