The Ghana Education Service(GHS)  has refuted claims that a teacher trainee working in one of the schools under the Asokore Mampong Education Directorate has impregnated a headmistress and other females.
In earlier reports on social media and some online portals, the said trainee was said to have impregnated the headmistress of the school where he works at, as well as 24 students and four teachers.
It was reported that he is a level 400 student-teacher from a popular College of Education in the Western Region. 
Some media outlets indicated that the said trainee had been arrested and was in police custody. 
However, in a press statement dated June 3, 2022, the GES has described the reports as false, as well as providing reasons for its position.
According to the Asokore Mampong Education Directorate, its outfit has not engaged colleges of Education to post teacher trainees into any of its schools since its inception. 
The Directorate further clarified that teacher trainees are posted within their home region, hence the reports indicating the trainee is from the Western Region cannot be true.
"Trainees are posted to schools in districts within their Region of studies and are mostly sent to schools that lack trained teachers. Asokore Mampong does not have such a challenge," the GES added.
With regards to a headmistress being impregnated, the Service indicated that out of the eight M/A schools under the Education Directorate, all heads teachers are males but one.
The only female headmistress, according to the statement, is aged and also due for retirement in 2023.
Meanwhile, the Ghana Education Service says the issue of increase in teenage pregnancy in the Municipality is a thing of the past.
"The Girls' Education unit has over the past 3 years recorded lower number of pregnant school girls in schools in our Municipality," the Service added.
On the other hand, the Ghana Education Service has entreated the media to consult its outfit for verification on sensitive matters such as these in the near future.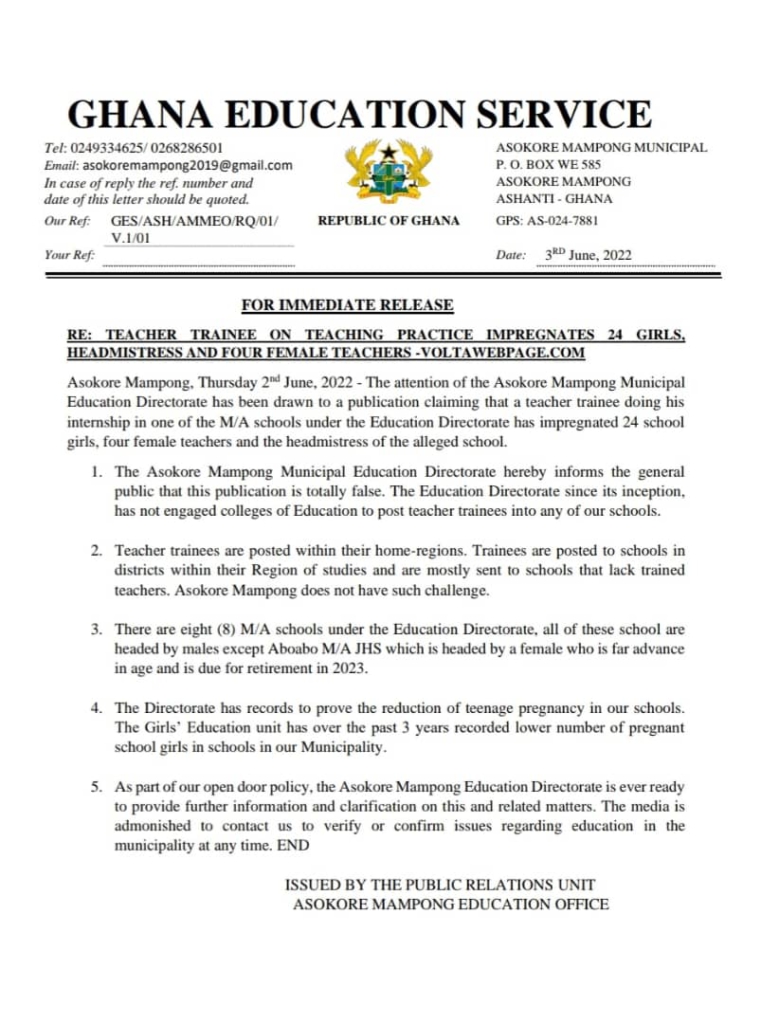 In January 2022, Eduwatch, a non-governmental organisation disclosed that about 555, 575 teenage girls in Ghana got pregnant between 2016 and 2020.
According to the NGO, about 100,000 Junior High School girls get pregnant each year across the country.
Also in 2021, ModernGhana reported that a teacher in the Komenda-Edina-Eguafo-Abrem (KEEA) Municipality in the Central region impregnated three girls in the same class.
The online portal referenced, Dr. Kyeremeh Tawiah Dabone, a lecturer with the University of Cape Coast Counselling Centre as the source of the information.
It was reported that he made the revelation about the unprofessional conduct of the said teacher during a seminar by the Ghana Education Service' Counselling and Guidance Centre at Kwadaso in the Ashanti region.
The seminar was organised to equip school-based counsellors on the need for the counsellors to offer psychosocial support to school kids.
Source: The Independent Ghana