As the era of cheap money draws to an end, bondholders are no longer prepared to cut Ghana any slack.
The West African nation's dollar bonds have slumped 10% in 10 days, moving deeper into distressed territory as investors judge that re-financing debt in the Eurobond market won't be an option when the Federal Reserve hikes rates and budget targets remain elusive.
The extra premium demanded on Ghana's sovereign dollar debt jumped on Wednesday to an average 1,105 basis points, from 683 basis points in September.
Its $27 billion of foreign debt had the worst start to the year among emerging markets, extending last year's 14% loss, according to a Bloomberg index.
Investors are questioning whether Ghana — the region's second-biggest economy — can sustain its debt levels if a surge in borrowing costs shuts it out of international markets. Government debt climbed to 81.5% of gross domestic product at the end of last year, from 31.4% a decade ago, according to data compiled by Bloomberg.
That places Ghana among the most vulnerable credits to tighter U.S. monetary policy, despite strong economic growth.
Welcome to the Club
This month's selloff places Ghana firmly in EM's distressed debt nations.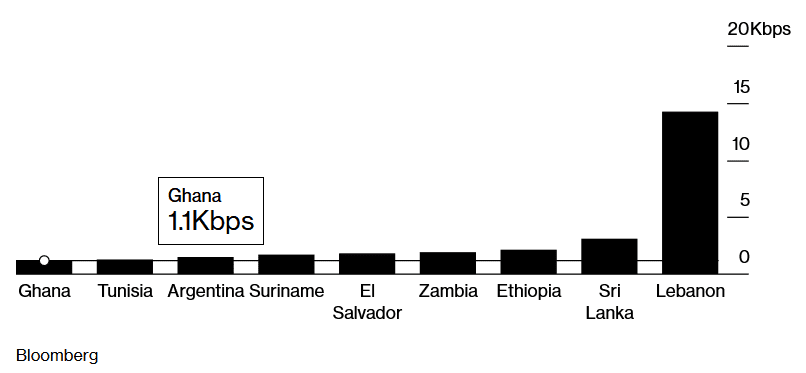 Source: Bloomberg