To celebrate her son's birthday, social media star Akuapem Poloo did a photoshoot with her son while she was stark naked.
The actress' son was also dressed only in his underpants. Akuapem Poloo shared the photo on her Instagram page stressing that she was naked because that was how she was when giving birth to him.
"You see how you looking at me always remember that I love you👩‍❤️‍👨 I'm naked in front of you because this is how naked I was giving birth to you, so in case you find me naked lying somewhere don't pass by me but rather see me as your mom who brought you to life," she wrote.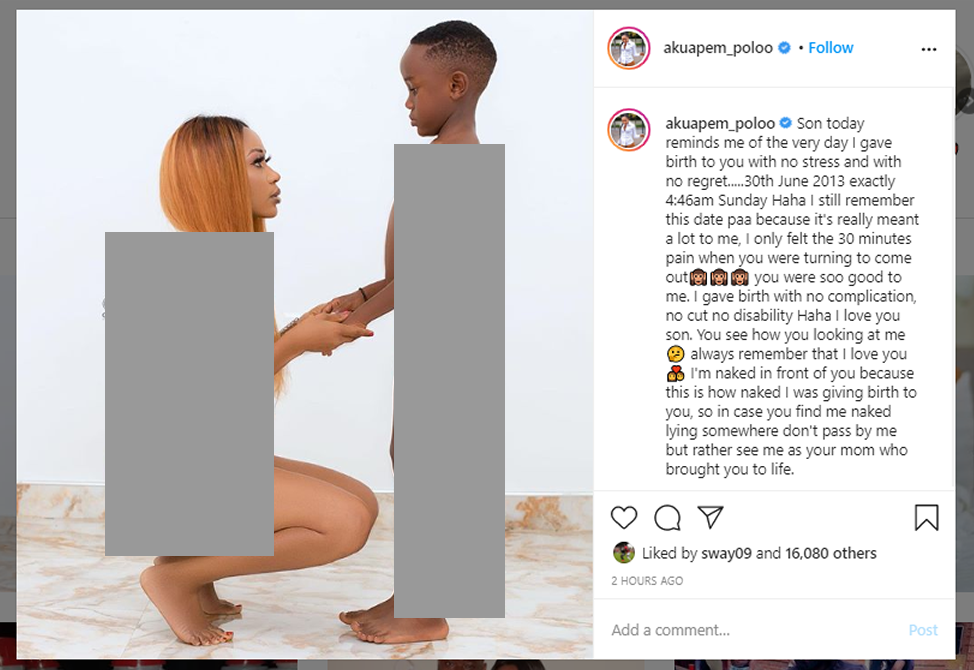 However, the post has attracted some criticisms from followers, fans and other social media users.
Some users said the photo is in bad taste adding that they are surprised Akuapem Poloo sees nothing wrong with the photo.

Others wrote that the actress has done nothing wrong because the little boy is her son.
I'm I the only one who think there is nothing wrong with Akuapem Poloo's picture with the son.😒

— JOHN DRAMANI MAHAMA. (@Ex_Prezo) June 30, 2020
Everyone wants to jump on Akuapem Poloo because they think they're morally right smh

— E L L I S 🇬🇭 🥁 (@IamFrancisEllis) June 30, 2020
Well, so many people are talking about akuapem_poloo nakedness in front of her son, but to me this isn't wrong at all. Why do I say so? This is a harmless photo considering the message it contains
It just depicts… https://t.co/lrkvjsJgOV

— MAXTYMELIVE.COM™️ (@maxtyme1) June 30, 2020

Read more reactions below:
Akuapem poloo ne gyemii.. Aden aa I was naked when I gave birth to you, kwasiakwa
So the child had sopota(jockstrap) on when you born am.. Wagyemi-awou

— big 4teen (@ReenzelRich) June 30, 2020
Akuapem Poloo is misbehaving this early morning and some so called "local celebrities" are under her post and kissing ass as usual! ❤️❤️❤️❤️ oh nice. Wei y3 nice? Nobody has a problem posing a picture with your son celebrating him. Let's not condone nkwasiasem in this town. Tchew

— Ghana Mr. Bean 🇬🇭😨 (@Ghana_Mr_bean) June 30, 2020
Eeiii…..Akuapem Poloo koraa s3 s3n
Like seriously a lot of stuffs are going on ooo
Herrh
🤣🤣🤣🤣🤣

— Miwasty (@NanaTheBoss2) June 30, 2020
Imagine Shatta Wale, Stonebwoy or Sarkodie w/ their daughters being the characters in Akuapem Poloo's photo. The so called femists will pull their mouths like borla bird go come talk a whole lot of bs …

— Kwahu Borga (@6glocck) June 30, 2020
I've always been a big fan of Akuapem Poloo but wei deɛɛɛ..

this isn't the first time I've seen a celebrity pose nude with their son though. An incident like this happened in the US some years back, but it's still weird

Who are we to judge though..
Ɔbaatan asem deɛ yɛnka no pii

— 👑OGYAM👑 (@KwabenaGyam_) June 30, 2020
#AkuapemPoloo koraa sii d3n??
Ahhhhhhh..
I saw this photoshoot of hers trending this morning.
And trust me.. I feel too ashamed to share..
Whatttt #wendyshay
See your girl
I love her
But this one dierrrrr

— BarristerMaameAbenaPokuaa (@barristerabena_) June 30, 2020
Going naked in front of your son just to get attention on social media is a shameless thing Akuapem Poloo is doing. At least you could have taken your son to the orphanage to celebrate his birthday with the kids🤦‍♀️

— GIRLING 🎀🌹🇬🇭 (@AbenaPerfecty) June 30, 2020
Akuapem Poloo's son isn't even happy, look at the way the boy do his face

— GIRLING 🎀🌹🇬🇭 (@AbenaPerfecty) June 30, 2020
You say the Akuapem Poloo picture is inappropriate.. But you're tweeting the same picture and hyping it. Wey madness this?

— Eli Kofi 🖤🗡️ (@eli___k) June 30, 2020
Mo pri Twitter feminism commandos jie eye give Akuapem Poloo ein matter but will come shouting at Abenkwan twitter for not tweeting about the rape case. Lool
— Hafeez (@ParcoLeo2) June 30, 2020
Akuapem Poloo paa ah, even if she used me with big d*** kraaa nu, it's abuse na this innocent boy, oh no!!!😹

— Nungua Zayn Malik🇬🇭 (@WahidHansen) June 30, 2020
This thing Akuapem Poloo do if ibi guy wey do am ah like by now girls from nowhere start dey tweet "Justice for the kid", "Men are trashed" and a whole lot of nkwasiasem.

But we move👊.

— Ivan Arthur🎈 (@Mrbelgium1) June 30, 2020
If the child was still a baby and she did this kinda shoot with him…I'd see nothing wrong with it but now he's growing; could be 9 or 10yrs ….couldn't she have given him a decent normal photoshoot?…Akuapem Poloo dier oh norrrr. Cardi B sef no go do this.😪

— Enarya🍒💎 (@iamowusuaa) June 30, 2020
Akuapem Poloo will fool saaa and later come and apologize say she's done with fooling. But after some time boom and she's back to fooling again sigh💔.

— Ivan Arthur🎈 (@Mrbelgium1) June 30, 2020
Akuapem Poloo really get issues, what will make u take a nude picture with a child

Secondly what kind of "innovative" photographer will take that up as an idea and make that a shoot.

Asem o

— Kojo Komment💉🇬🇭 (@benbenaqua) June 30, 2020
Akuapem Poloo was thinking she was sending a great msg of motherhood, but rather potentially raising a child who might be traumatized for a long time. 7 years is a dangerous age for parenting, creating the path of ur child. Akuapem is choosing a dangerous road for her boy 😭💔

— Saada 🇬🇭 🐬 (@daddys_girlT) June 30, 2020
Clearly it's the west you're copying – meanwhile the people you keep mentioning anytime you're attacked in Riri and Kim K never do this for free. They earn something when they appear like this as magazine covers or what have you. But here are you doing it for clout Akuapem Poloo

— Atopa Gangster🏹🎯 (@Atopa_Gangster) June 30, 2020
Where are the feminist? Hope they have seen what Akuapem Poloo is doing? Are they happy? Is she promoting the idea of a "virtuous woman" ? Must guys still respect her like this? We have a culture ohh…OK! U continue copying the "west" na mo ngyimii saaa..we are watching u..

— Son Of Mourinho (@senyonino) June 30, 2020
We've got societal misfits but that of Akuapem Poloo is past that level, she'll do anything for attention. It's madness at this level.

— Datty Don (@Dattydon) June 30, 2020
Akuapem Poloo paaaa does she have people around her who advise her? Cos this madness we dey see am play play den e get critical

— ʍʀ աɛʍs🥁🇬🇭 (@mr_wemz) June 30, 2020
Who says Akuapem Poloo is moved by what you say. She just wants you to say anything about her. That's her source of joy.😂

— BANKU HO NSUO🇬🇭💬 (@joe_banku) June 30, 2020
Akuapem Poloo : I'm naked in front of you because this is how naked I was giving birth to you "

so her son was wearing pant when she gave birth to him anaa??

— Dr. Hausakoko (@sir_virgi69) June 30, 2020
I no that no man will do what Akuapem Poloo did. But when a man does that, I expect those people with feminist ideas that they don't even understand to keep their mouths shut just like what they're doing now.

— Panford 👑 (@Pan_Phord) June 30, 2020
Source: MyJoyOnline