Host of 'the Dropoff' on Starr 103.5fm Kwadwo Bonnah popularly known as K. Bonnah has shared his radio journey so far noting he is delighted to be working with the likes radio greats such as Bola Ray, Jon Germain, KOD among others.
According to the radio presenter who is fast rising as king of late-night radio shows in Ghana, he never aspired to be any other professional but on-air personality.
He added that he used to be inspired by ace radio presenters like Komla Dumor, Tommy Annan Forson and Bola Ray.
In a recent video posted on his official social media pages on his radio journey, K Bonnah said "growing up I never even thought about being a doctor or counting money at the bank. It was always a dream to be on your radio to talk to you. So i used to listen to the people like Tommy Annan Forson, listen to people like Komla Dumor, listen to people recently like Bola Ray, listen to Jon Germain, listen to KOD."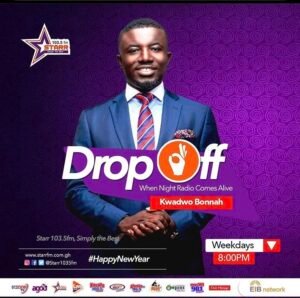 "And it's being a great moment to share platform with such great people like Jon, like KOD and like Bola Ray himself. its been a dream come through," he added.
'The Dropoff' show at a point in time gives the opportunity to solve marriage issues, gets to talk to lovers and get to talk to partners too.
K. Bonnah added "and hey I love the 'confessions' on my show. This is where Ghana shares its secrets Mondays and Wednesdays 8-10 pm.
Watch full video here:
Source: Starrfm.com.gh